Located in Chicago, IL, a food packaging manufacturing company was looking to lower their workers compensation claims. They turned to CompCorePro (CCP) to help them save on their workers compensation injury costs.
Contact Us
We'll Review Your Loss Runs to Let You Know How Much You Could Save

Challenge #1
Providers ordered unnecessary treatments and office follow-up visits.

Challenge #2
Patients sought treatment elsewhere due to delays on referral approvals or obtaining attorneys.

Challenge #3
Delays in coordinating and approving referrals.

What They're Saying
"CCP was engaged by our company in 2017. Comparatively, in 2015 and 2016, we had a similar number of claims. In 2017, our claims costs were significantly lower. We will now be eligible for a large premium refund due to workers comp loss experience."
Solutions
Solution #1 - CCP monitored the patient's care to prevent unnecessary office visits and excessive treatment.
Solution #2 - CCP worked directly with the adjusters to obtain referral approvals. This eliminated delays, reducing the likelihood of patients being treated elsewhere or retaining attorneys.
Solution #3 - CCP coordinated referrals within 24 to 48 hours.

The Results
CCP helped this client save both money and time by closely monitoring their claims and making sure the appropriate treatment was being ordered and scheduled in a timely manner.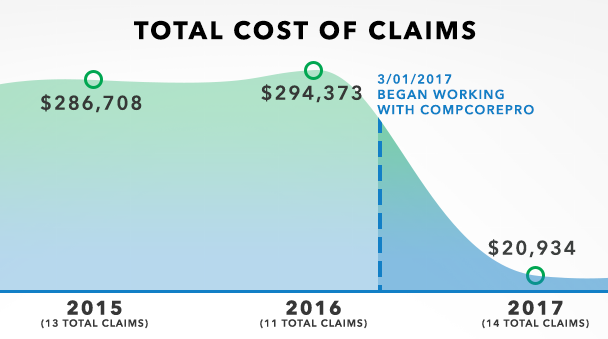 Learn How Much You Could Save With CompCorePro
Contact Us Today